Coach Bobet & Mary Ann frequently conduct the Monday sessions in Quezon City.
When: Usual Schedules in Quezon City
Every Monday at 2:00pm and 6:00pm
Every Friday at 6:00pm
Every Saturday at 10:00am
Venue:
JIAO Bldg, Timog Ave corner Quezon Avenue, Quezon City
(in front of Ninoy Aquino Monument.
JIAO Bldg has signages for JMK Wines and Spirits, LBC and Red Ribbon.
It is between Cowboy Grill and Wensha Spa
Fill out the form to register for the Quezon City seminar.
IMPORTANT: A few minutes after you submit your registration, you will receive, in the email address you provided, a confirmation email asking you if you submitted the information to this form. This is to ensure that you (and not just someone who used your email address) knowingly registered your name.
YOU MUST CLICK on the confirmation link to complete your registration.
After you have confirmed, we will send you E-Ticket mail. If you do not receive the confirmation mail, or e-ticket, please check your spam mail in case it got over-enthusiastic and discarded our mails.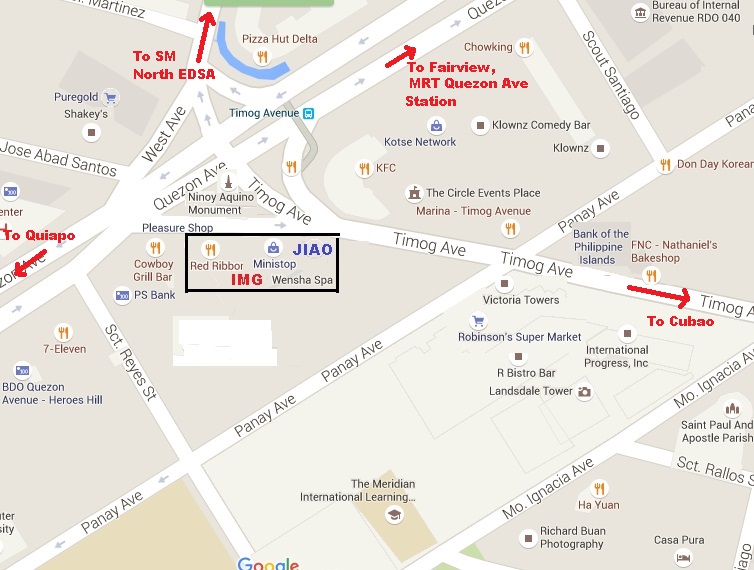 Location map for the FREE Saving Your Future Seminar in Quezon City.  Seminar venue in RED
Please confirm and honor your reservation since we are allocating seats for you and not accepting others. If you plan to attend the seminar on weekdays, please make allowance for the normal heavy traffic during business days, and for time to find street parking.
Thank you!